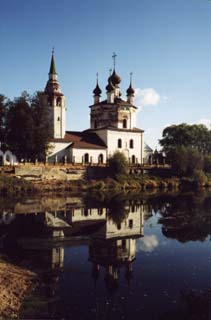 Best regards,
The All Planet Euro 2000 Team
For the entire month of September,
we were on location in Russia,Ukraine and Crimea shooting footage for upcoming productions.
The main focus was on the 8 year project -
The Lost Art of Russia,
a documentary started in 1992, that focuses on the fantastic and beautiful art form from Russia - Palekh.
These are the minature art lacquer boxes that are painstakingly
painted by the finest Russian artists, often for months on a single box.

During this last trip All Planet completed Principal Photography on the program.
We had the opportunity to interview nearly 50 of Russia's most prestigious artists, usually right in their studios.

There are four villages in Russia that are the centers of this art form:
Fedoskina, Mstera, Khouli and Palekh.
All four villages are represented fully in the film.

Additionally, we filmed in Braunschweig, Germany, at the Stadisches Museum.
This is where the world's largest and best collection of antique lacquer boxes is housed, and this collection serves as a foundation block in the film, since it was from this art that the first Russians were inspired to begin their industry of minature box art.

Over the next week we will be placing more information here about the artists included in the program, as well as many stills of the boxes filmed at the artist's studios and the many museums and collectors.

A good part of the interviews were spent with Russian Sunbirds. Paul Tyutin was extremely helpful and knowledgable. Our combined crew captured some of the most memorable footage and historically significant interviews.
Especially durable, patient and contributing their talents were the All Planet and Russian Sumbird's crew members Alexey, Sasha, Vika, Ganz, Irina and everyone else who shared their stories, art and food.

Special thanks also to the Directors and artists who took time to meet with us at The Fedoskina School and Museum, The Palehk Museum and School, The Khouli School and Exhibits, The Mstera School and Exhibits.
and to:
Tanya, Misha, Sasha, Alla and Sasha, Tanya and Sasha, Vika, Urji, Galya, Lev, Viktor, Daniel, Masha and Sasha, Nickoli Anatol, Irina, and the many other interesting and helpful contributors.