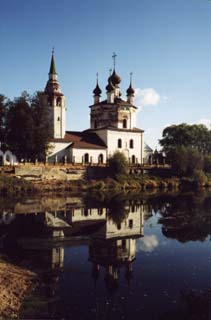 Best regards,
The All Planet Euro 2004 Team
RUSSIAN ART DOCUMENTARY
"The Lost Art of Russia" nears completion --PRESS RELEASE JUNE 22, 2002
Santa Cruz, California
The first Program is nearing completion for August 2005, following completion of the new interviews. Among the last interviews to round out the program are:

an exciting one discussing Palekh and Fedoskina history in detail with
Ludmila Pirogova, author of "MASTERPIECES OF RUSSIAN FOLK ART"
Lacquer Miniatures PALEKH


Final editing of last year's interview with
Lucy Maxym (more info here),

Will also be in the first program in this series.
There are enough interviews and materials produced that there will be a second
half hour program produced after the end of 2005 on the same subject.
---

RUSSIAN ART DOCUMENTARY
"The Lost Art of Russia" --PRESS RELEASE SEPTEMBER 10, 2001
Santa Cruz, California
Today, the new capacity for an additional 40 minutes of broadcast video was added to Edit Suite 1, enabeling All Planet
to work on programs over 70 Minutes at full Broadcast resoution.
---
RUSSIAN ART DOCUMENTARY PROJECT
AWARDED MORE RESOURSES --PRESS RELEASE MAY 8, 2001
Santa Cruz, California
All Planet Studios, in Santa Cruz California, announced today
that their series of programs about Russian Art has been approved
for three additional episodes to be produced between 2001 and 2003.
In late April, after reviewing additional footage shot in Russia
with more artists, after several very successful test screenings,
and the interest in the subject, All Planet made the decision to
extend the production of
"Lost Art of Russia" Episode "Russian Miniature Painting"
from a 30 minute program to a series of programs.
Additionally, filming of Russian Artisans will continue with
upcoming shoots already scheduled with top artists in
May, June/July and September of this year.
Although the first program was focused on Russian Lacquer
Miniatures, many shoots of Oil Painters have been filmed since 1993,
as well as footage about the History of Icons.
The first program on Miniatures includes some of the footage
about Icons, since the subjects are inseparable.

---
Editing of the newest interview segments occured from May 1 to 12.
Thereafter, an analysis of this footage and the existing 38 minutes will be made.
Gabreal will be in Russia the 4th time (this year) July 7 to July 25, and work on completing a
final edit will be done starting June 4 through September 30.
Final voice-overs for Narration will be recorded in Los Angeles soon thereafter.
Current completion date of Candidate final cut is October, 2005.

---

3rd Trip___May 8- May 30 the 3rd shoot this year in Russia
2nd Trip___From March 26 until April 13, All Planet was again filming in Russia.
Mstora, Khouli, Palekh, Fedoskino
1st Trip___The shoot in January - Feb 14, in the Golden Triangle area of Russia:
Vladimir, Suzdal, Mstora, Khouli, Palekh, Fedoskino
as well as shoots in St Petersberg went very well,
and are bring posted. Translations for the newly interviewed artists is done.
The Golden Triangle part of the shoot is the final few elements to sweeten the 8 year project -
The Lost Art of Russia, a documentary started in 1992 focused on the fantastic
and beautiful art form from Russia.
These are the minature art lacquer boxes that are painstakingly
painted by the finest Russian artists, often for months on a single box.

---

NEW TRAILER PRESENTED HERE


Exclusive for All Planet Viewers, this is an 8 minute "Positioning Piece"
showing a few elements from the program.
It has been cut in two parts, for easier access for smaller computers.
As of March 25, All Planet has prototyed the program on the new full DVD Authoring system.
This in-house equipment now allows the studio to create one-off and prototype DVDs suitable for mass replication.

DISCLAIMER
It has TEMPORARY VOs (Voice Overs) for the Narrator,
the female voices are final. Music mixes are temp, and not
equalized.

WE HAVE ONLY POSTED REALVIDEO CLIPS HERE FOR NOW, (Sorry)
IF YOU NEED ASSISTANCE PLAYING THE CLIPS < CLICK HERE>
NOTE: ONLY download their FREE PLAYER