---
SOL Original Burne-Jones Centerpiece
---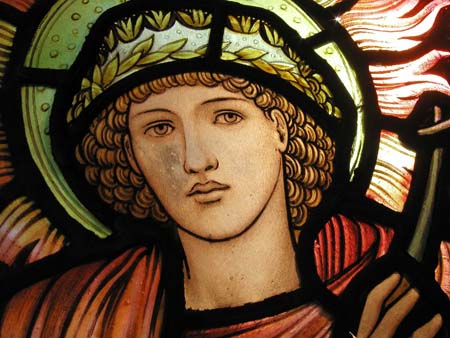 This SOL panel will be privately offered for sale. November, 2016. An extremely rare original William Morris/Burne Jones stained glass panel. Listed in the definitive Seuter Books.

---

Of the 2 panels kept in the Franklin Collection since the late 1970's, MARS is now at LACMA - Los Angeles County Museum of Art. SOL is the last of the Woodlands pieces available, in the best original condition of the whole set, as well as having been the centerpiece of the original set.

---

Some close up shots of SOL can be seen at this link:

CLICK HERE: SOL CLOSE UPS

CLICK HERE: SOL HISTORY, including Woodlands History

Sol, seated on a cloud at sunset, in front of a lion. 1'10" wide x 3' 8.5" tall (Largest of the set)

---
---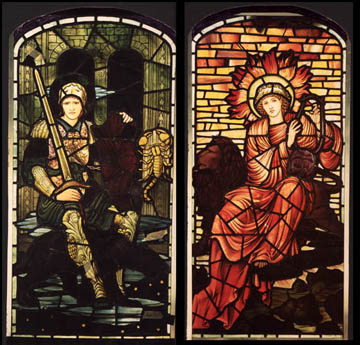 ---
---
Two panels "Sol" and "Mars" by William Morris Company, designed by Sir Edward Burne-Jones, purchased as a set of 7 by The Franklin Collection in the 1970's.
The other 5 panels went to Jimmy Page, of LED ZEPPLIN,
owner of one of William Morris' former homes.
UPDATE: Mr. Page sold his panels to Sir Andrew Lloyd Webber via auction, so this is the last remaining panel available for purchase. The hope is to get it a new home where it can be on display for the public, as is befitting such an historically significant piece of art.
---
Panels found by Franklin in the late 1970's were:
Venus, Morning Star, Evening Star, Luna, Jupiter and the 2 best ones he kept, Mars and Sol.