Watch here for the VIDEO PRESS RELEASE on
SIBERIA - A Land of Dreams
August 2002

---

Brief information about Baikal Region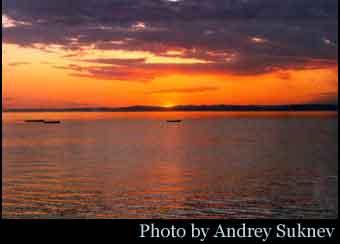 * Lake Baikal is a Sacred Sea, and home to an incredible rebirth of legend, dreams and magic.
* Lake Baikal is the deepest, purest, oldest, largest lake on the planet.
* Lake Baikal holds twenty percent of the earth's fresh water
* Lake Baikal has more species of plants and animals than any other lake on the planet
* Over fifty species of fish including bullhead, sturgeon and omul
* Fed by more than 336 rivers and streams including the Angara, Barguzin, Selenga, Turka and Snezhnaya
[only one, the Angara, flows out from Lake Baikal]
* A Crossroad of cultures, where native Sayats still herd reindeer
* Buryat people maintain many of their old traditions
* Gateway to Mongolia and its ancient and amazing culture
* Legend states that Olkhon Island was the birthplace of Genghis Khan's Mother
---
The Expedition is over now, extended the time period through June 3, and returned
to Moscow on that day.
Hank Bernbaum has offered wonderful information about the area as senior consultant on the project.
A resident of the area, Hank is extremely well informed about the region.
Jim Berenholtz has also been kind in providing some additional information.
Evgeniy Jack Sheremtov is is very knowledgable of the area.
His site is baikaler.com, and is a great resourse.
The region is huge and there are a lot of shots on the shot list.
---

Andrey Sukhnev, has the wonderful site: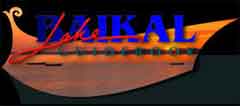 Will be in Krasnoyarsk, and Abakan until 27-th of May. His good friend Igor is available, and he is involved in our GBT
project. "Great Baikal Trail"
We lare looking forward to working with Igor, and meeting Andrey when he returns to Baikal.
---

Nikita and Natasha Bencharov on Olkhon Island were wonderful contacts, and we highly recommend
contacting them, and staying in their B&B if you plan to visit Olkhon.
We will post their contact info here in the next days.

---
---
[PARTIAL SHOT LIST]
please excuse bad spellings - some of this information is written phoenetically from phone conversations,
others "translated" by Gabreal from Cyrillic to Latinski.
---

Moscow SVO arr. 21 May 5:25 PM
SVO/IRK Aeroflot 729 21 May d. 7:45 PM
arr. Irkutst 22May 6:15 am
---
IRKUTSK - Paris of Siberia 22 May Weds.
Production meeting breakfast, Chai.
Shots scheduled:
Along river - New Drama Theater,
old wooden houses, and classical/baroque architecture.
Znmensky Monastary - (where Shelokov and Decemberists wives rest)
City Museum
Spassky Catherdral - where the old fort was.
Shot from Bell tower - Closed for 'lock' repair.
Near there is a roadway to river - go to shore near Veterans monument.
Fast water shots
Break before Sunset / rest

OLKHON - Island 23 May Thurs ,
IMPORTANT: FLY to Olkhon and do Aerial Shots en route, or
If weather problems, get picked up at Olkhon



Polish Built Mi-2 -
OLKHON - Island 24 May, 25 May
Burkhan / Shamanka Rock - next to main town Khuzir
Mbic -Far northern end of Island - Very Sacred Spot.
Staying with Nikita Bencharov and Natasha Bencharova
Interviews:
Valentine Khagdayev - Dir of Museum in ELANTSI (nr Olkhon Island) Shaman
Bolshoye Goloustnoye -
Viktor Vorotintsev and Misha Mangaskin (from Olkhon)
Buryat Custural Center - Faya.
Faya's mom is Dora - cullturalist. Gutya - Buyrat Elder.
Interviewed Gutya and 10+ of her wonderful friends - other
Buryat Elders,


LISTVYANKA 27 May Mon.
Visit Baikal Museum - Nearby TALTSI on way from Irkursk to Listvyanka
Director Vladimir Fialkov, on TBI board -
(then land to BG)
---
Interviews:
Valentine Khagdayev - Dir of Museum in ELANTSI (nr Olkhon Island) Shaman
Old Believers - Very short - more 'shots of conversations' than interview.
Female Shaman - Next trip -
Pick Ups (as encountered 'in the course'):
folk songs - Done
Wild Life - Fresh Water Seals, bear, etc.
Local Fishermen,
Sport Fishing Excursions available for visitors
Fishing - Commercial and Tourism - Ust Baruzin and Barguzin on Eastern Shore
IRKUTSK - 28 May Tues. - Dinner with friends, Spend night, ready for early departure.
29 May Wed Irkutsk/Moscow d. Aeroflot 780 8:10 am -
Poss push to May 31 Fri.
ULAN UDE - Poss push to Sept/
Andrey Sukhnev / Igor
Ethnographic Museum,
Buddist Temple -Datsan temple in Ivolginsk
Village of Old Believers
---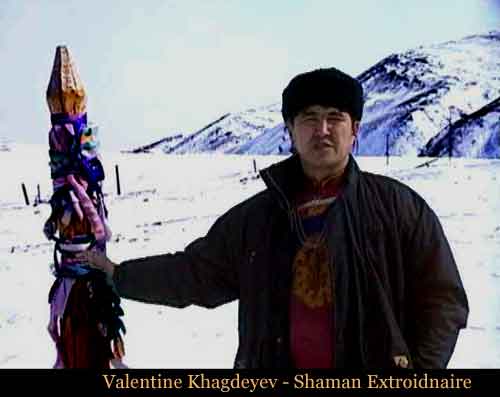 photo by Artur Abazyana